Welcome back to Week 2 of the One Room Challenge™, my maiden voyage, the adventure created and sponsored by Linda from Calling it Home, wherein bloggers redo, renew, refresh an entire room in just about 5 weeks.
I'm tackling my master bedroom, and click here to review my Week 1 'before' images and project list and plans.
Please tell me–Where does the time go?!!  In week 1, I made a rough list of the major milestones.  This past week, it feels like I've been working all the time, but the room looks exactly the same.  I spent all my time working on sourcing stuff, ordering it, planning the panel moulding, getting quotes, and then checking in on reality….whomp, whomp.
Below are the various fabrics and materials I'm using in the room.  It's mostly green/grey, taupe, black, white and a strong blue/green/grey as well.
So, after a week's time, here's where I am with the list:
Quote for carpet and schedule installation–Quote done, and I can get it installed in early May, but I'm not crazy for it.  I feel like I'll still want a rug on top, and well, not thrilled…..  Below is what I have quoted:
Later I found this beauty and need to get measured and quote.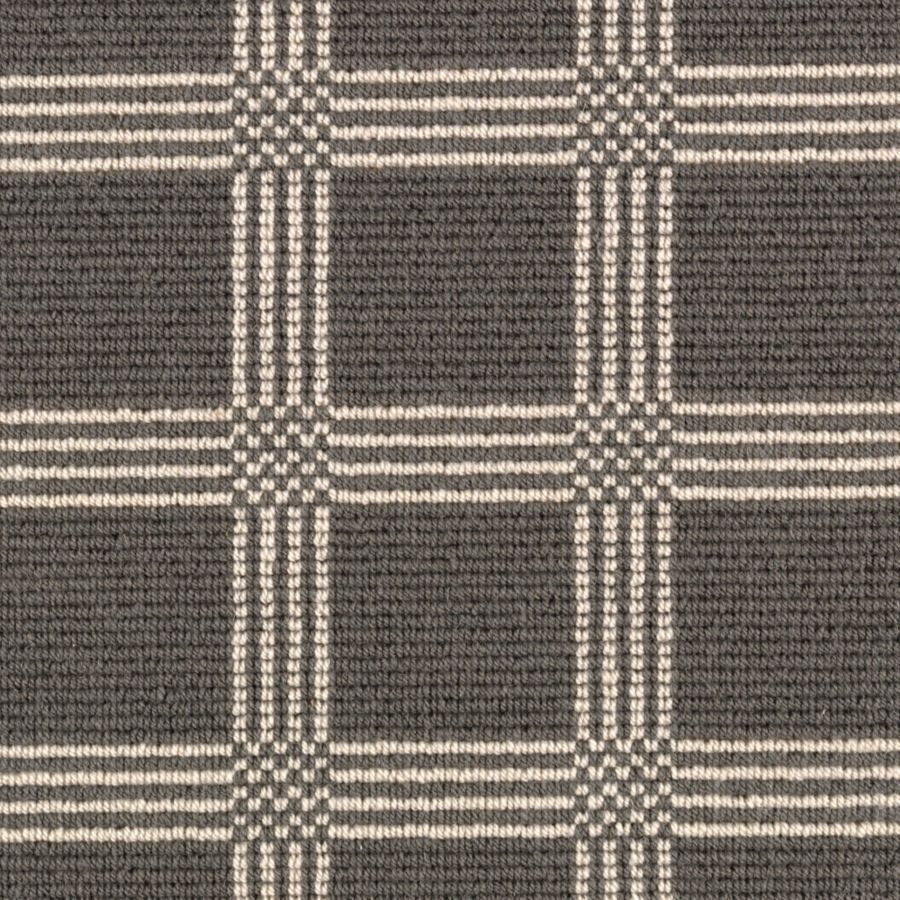 Shop for bedding.  I am going to keep the linens simple, and I've chosen Crane & Canopy Linden
Crane and Canopy Grey Linden Border Duvet and Shams
Cut out the fabric and lining material for the draperies.  To create the fullness I want, and to tone down the kind of crazy pattern in the drapery fabric, I need 6 panels for the bay window, and 2 each for the smaller windows.  Lots of panels, lots of pinning…So far I have one panel (of 3 fabric widths) sewn together, ready for the pleating, etc.  So now only 7 more panels!  I found a good YouTube tutorial on how to make lined drapery panels that I've used in the past.  I'll share that DIY later.
Confirm curtain rod situation for the bay window.  I had a bit of a set back on this earlier in the week since this is a bowed window and not a typical, segmented bay window…..I McGyver'd (or McGruber'd) a solution, so stay tuned for how I made lemonade out of this situation.
Order curtain brackets and rings.  I'll do this once I confirm my DIY curtain rod is a 'go'.
Layout the pattern for the panel moulding.  This has been a booger!  I downloaded SketchUP, and taught myself some basic skills to draw the room outline, window placement, etc.  The problem is that the molding is basically going to bisect the TV and dresser on the wall opposite the bed.  Not sure I care, but need to convince Papa Dog he doesn't care.
Order and install moulding materials.  Right.  Someone else is going to do that last part.
Confirm paint color and prime and paint.  Well I've chosen the paint, BM Chantilly Lace so……
Figure new Japanese screen situation.  Maybe I'll order some wallpaper panels and frame them…but time is running out on that kind of thing…I have a back up, so this is TBD.
Well, that's all I have for this week.  Thanks so much for stopping by!!  Please check out all the other fabulous work being done over during Week 2 over at the mother ship!
Joan